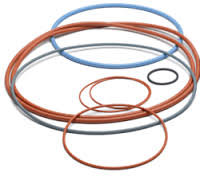 Viton O Ring / FKM O ring is a kind of synthetic rubber, mostly utilized in making O-ring seals. These kind of rubber o rings are becoming very popular because these are resistant to oils & solvents. It can bear diverse temperature ranges hence more widely used in many industrial applications. In fact Viton O-rings are best choice for high temperature or different varieties of fluids. One such application that has embraced Viton O-rings is SCUBA jumping, where the O-ring seals are utilized as a part of the jumper's air tank. Nonetheless, however Viton is good with most hydrocarbons, it is for the most part not perfect with ketones and natural acids.
Bombay Rubber and Carbon Works, situated in Mumbai is fastest growing Viton O ring / FKM O Rings Manufacturer Company. Our supplied Viton / FKM O rings are considered to be best suitable as per the desired specification of the customers. Hence counted among the notable suppliers of O rings products.
With our vast experience in this field, we are capable to provide complete technical support, service and supplying of specifically designed Viton O-rings/ FKM O rings suitable for various sealing applications of Automotive, Chemical Processing, Energy and Food & Pharmaceutical Industries. In addition we are also exporter of FKM O-Ring products in international market such as in countries like Belgium, Behrain, Dubai etc.